Electric guitarists often own an acoustic or two as well, but many who are used to electrics find the transition between slim, ergonomic electrics and big, bulky acoustics to mean that playing acoustic is much more difficult, especially when combined with the heavier strings and increased tension of an acoustic guitar.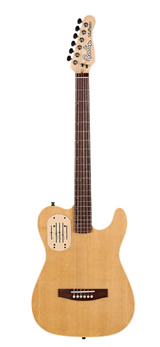 However, a solution became available in 1989 when the French-Canadian company Godin (established since 1972) introduced a new line of guitars. They were acoustic and lacked magnetic pickups, but had slim, Telecaster-shaped bodies which were chambered but did not have any external soundholes.
From a distance the new guitar (christened the Acousticaster) looked like any other Fender Telecaster (it had a chambered maple body with a spruce top, bolt-on maple neck and maple or rosewood fingerboard) but had traditional acoustic wooden bridges with inbuilt piezo pickups provided by L.R. Baggs. Part of the Acousticaster's surprising resonance for a small guitar came from the use of eighteen metal "tines" (prongs or forks) inside the body, which are similar to tuning forks and resonated in sympathy with the guitar.
The piezo system was controlled by an EQ on the top bout of the body, featuring four sliders (controlling gain, bass, mids and treble) for finer tonal adjustments. The guitar was different from normal acoustics in that it was slimmer and smaller, and used ordinary electric guitar strings to facilitate bends that were out of reach of traditional acoustic guitarists.
It also put a wider range of notes at the guitarist's disposal. Where acoustics generally feature 20 or 21 frets, the Acousticaster was able to match the Gibson Les Paul with 22 frets.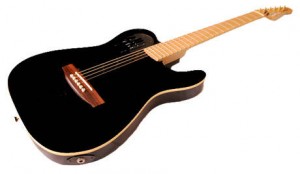 A few different finishes were initially available, and according to a 1989 review in Guitarist magazine these included black, white, natural, turquoise and cherry sunburst. It appears that natural and black, however, were the two most popular colour choices.
While many of the guitars I have written about from this time period were unsuccessful and are largely quite rare now, the Acousticaster is a resounding success story. Godin continues to have an extensive range of guitars and the Acousticaster remains part of the line-up. It is still made using the same construction methods and woods. New Acousticasters sell for around the £1000 mark, and used examples for anywhere between £300 and £700.