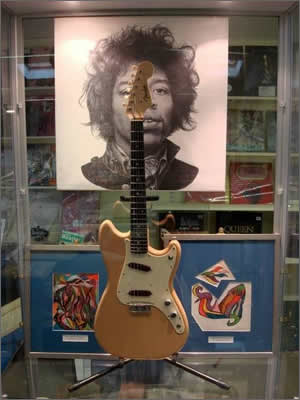 As posted the other day, the tan coloured Fender Duo Sonic, played by Hendrix before he was famous, fetched £164,675 at an auction today, over 400 times the price he originally paid.
The star's early guitar sparked a bidding frenzy at the Cameo Auctioneers Records' Music and Memorabilia auction in Midgham, Berkshire.
Hendrix had paid just £100 for the tan guitar when he was an unknown 21-year-old backing musician.
Going by the name Jimmy James, he used the 1959/60 model from March to November 1964 while performing with the Isley Brothers.
Two original pieces of Hendrix artwork from 1967 were also sold for a total of £17,400.