More guitar related crime:
Five guitars belonging to Tom Petty and the Heartbreakers were stolen from a soundstage at The Culver Studios in Culver City, according to the band's website. A reward of $7,500 with "no questions asked" is being offered.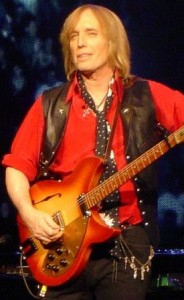 Petty had been rehearsing at the studios in advance of the band's 2012 North America-Europe tour, which kicks off on April 18 in Broomfield, Colo. No shows have been planned for Los Angeles.
The theft was reported to the Culver City Police Department on April 12 a little after 4 p.m., according to Sgt Dan Sukal.
The Culver Studios, a complex of 16 soundstages just off Culver Boulevard, was the home of "Deal or No Deal," "America's Next Top Model," and "The Starter Wife." Films such as "State of Play" and "Rush Hour 3" have also been filmed here. "Cougar Town" is currently in production on the lot.
The guitars include Petty's 1967 12-string Rickenbacker and his Gibson SG TV Junior, Ron Blair's Fender Broadcaster, Scott Thurston's 1967 Epiphone Sheridan and Mike Campbell's blue Dusenberg, which was built for Campbell to commemorate the band's 30th anniversary.
Fan reaction to the theft was fierce. "… nothing lower in life then a thief who would steal a mans tools to feed his family," wrote one.
"I don't normally condone acts of violence against others, but since I'm referring to nothing more than knuckle-dragging neanderthals – I hope somebody beats the [expletive] out of them with their own clubs," wrote another.
UPDATE:Â Stolen Tom Petty guitar found in Hollywood pawn shop
One of Tom Petty and The Heartbreakers' stolen vintage guitars was found in a Hollywood pawn shop after being sold to the store for $250 (£156).
The band's valuable instruments were stolen last week from a rehearsal space in Los Angeles, but were recovered yesterday (April 17) by police.
Daryl Washington, who worked as a private security guard at Culver Studios where the band had been practising ahead of their new tour, has been arrested in conjunction with the crime. The stolen items included Petty's 1967 12-string blonde Rickenbacker 360 and his 1965 Gibson SGTV Junior, as well as a Fender Broadcaster belonging to bassist Ron Blair, and guitars belonging to Scott Thurston and Mike Campbell.
An SG was found in the pawn shop, leading police to track down 51-year-old Washington, reports Culver City Patch. The CEO of Culver Studios, James C Cella said in a statement:
We're relieved and extremely pleased that all of Tom Petty's stolen guitars have been recovered and that a suspect has been arrested. Our security department cooperated fully with the Culver City Police in the effort to solve this crime.
He continued: "Even though the alleged culprit was not an employee of the Culver Studios but worked for an independent contractor, we feel a real sense of responsibility for everything that happens on our lot and we have conveyed our profound apologies to Mr Petty for the distress the incident has caused him."