Fender Stratocaster
Here's a nice video by my buddy Nicolai from Vintage and Rare.
This is probably the largest collection of brown 1970's Fender guitars in the world, including a tasty brown Starcaster in the back row..not a colour I have ever seen before on the Starcaster, which is rare in any colour!
The collection is for sale, but only as a collection..Bob won't split out individual pieces.


A 1967 Fender Stratocaster guitar owned by Jimi Henrix with a controversial past is now for sale after its owners settled with the late rock star's estate.
The sunburst Strat is a right-handed one that was converted to left-handed use to accommodate Hendrix.
The owners, Rockstarsguitars.com, are asking $500,000.
The instrument, currently on display at the Musicians Hall of Fame in Nashville, was at the centre of a 2001 lawsuit. Disputed were claims by Experience Hendrix LLC that the guitar was stolen shortly after Hendrix's death in 1970, or that it never belonged to him at all.
After two court trials and appeals, the estate settled with Rock Stars Guitars earlier this year for an undisclosed sum and an agreement that Experience Hendrix will give up its claim to the guitar.
As the story goes, Hendrix gave the guitar to roadie James "Tappy" Wright as a gift around 1968.
Rock Stars Guitars owners, Greg Dorsett of San Diego and David Brewis of England, said they bought it from Wright in 1999 for $60,000.
When the company tried to auction it on eBay in 2001, Hendrix's estate halted the sale by questioning its ownership.
A lawsuit followed, ending with a verdict two years later that ruled in favor of the businessmen. The jury awarded the partners $131,000, saying Hendrix's estate prevented them from getting market value on the guitar.
But after subsequent appeals, the case finally resolved in January with the settlement.
"I see this settlement as a complete vindication," Dorsett said in a statement. "Hopefully the litigation experience has only added to this guitar's unique history."
I found an interesting book on the Fender Stratocaster, by Tom Wheeler of Guitar Player Magazine.
The Stratocaster Chronicles: Celebrating 50 Years of the Fender Strat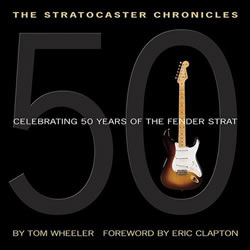 The world's most famous guitar has a golden anniversary in 2004 and this official, authorised book/CD package offers the best photos, quotes, facts and sounds to properly celebrate this achievement. From Buddy Holly to Jimi Hendrix to today's hottest players, the Fender Stratocaster defines rock 'n' roll for generations of fans and players. A foreword by Eric Clapton. Exclusive photos from the world's greatest guitar collection. A CD with musical examples of famous Strat sounds and styles – even spoken excerpts from the author's interviews with the Strat's beloved inventor, Leo Fender.
And in the words of one Amazon reviewer, "The best Fender Strat book yet"