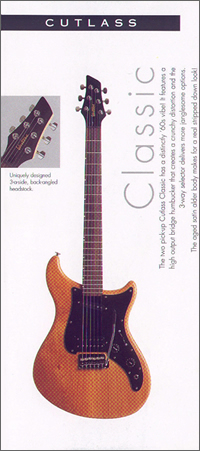 The Westone Cutlass was designed by renowned English guitar maker Sid Poole and produced in the Status factory in the UK in the late 1990's. Status are more well known for their popular (in the 80's and 90's, anyway) graphite necked headless basses, which were an almost standard issue to bands of that era.
The Westone Cutlass was one in a series of four in the Prestige series, along with the Cutlass Custom, Corsair Classic, and Corsair Custom and bears little relation to the earlier 1980s Westone models.
The body is similar in shape and size to a Stratocaster, and the neck is bolt on, extending farther into the body before it bolts, creating a slimmer heel at the neck joint and giving better access to the higher frets. The headstock is very small in comparison, with Gotoh-made tuners.
The original retail price was around £500 but many were sold off cheaply after disappointing sales….maybe the use of the Westone brand name wasn't helping as it possibly conjured memories of those worthy but cheap instruments so many of us bought in the 80s, although these days Westone guitars are held in much higher regard.
Specs:
– 1 Gotoh chrome plated vintage spec humbucking pickup
– 1 Gotoh vintage alnico single coil
– 5 way pickup selector switch
– 1 volume knob
– 1 tone knob
– 22 fret neck
– 25″ scale
– 12″ fretboard radius
– maple or rosewood fingerboard
– Gotoh tuners
– graphite nut
– Gotoh Vintage Dual Pivot fender style tremolo bridge
– alder body