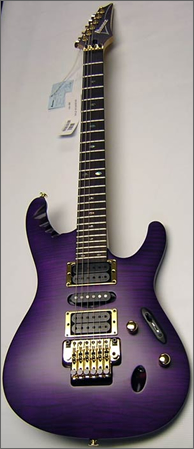 This is the signature model for DragonForce's Herman Li. 
When DragonForce guitarist Herman Li wanted a guitar that could handle his otherworldly technique and musicality, both he and Ibanez knew it would take time to get everything just right.
It took three years. But they did get it right. The Ibanez E-Gen is played by Li exactly as it is, live on stage, and in the studio, right off the shelf without any modifications.
The DiMarzio® HLM pickups were custom made for Herman Li for use on the new Ibanez E-Gen. Herman wanted a set of pickups designed specifically for E-Gen's slim mahogany body, 24 frets neck, different pickup mounting positions compare to his old Ibanez S guitars, along with the new Edge-Zero bridge. Here a description of how each pickup sounds:
Neck: Warm, clean, strong attack. Great for warm singing solos, clean sweep picking tone. Pull volume switch up to split coil for a more classic sound or go smooth and clean.
Middle: This pickup features a warm and punchy high-output design. The middle pickup has been designed to be mounted deeper into the guitar's body so it stays out of the way when picking, yet still remains perfectly in balance with the neck and bridge pickups.
Bridge: High output, screaming harmonics. Perfect for fast tight heavy rhythm, loud solos, responsive to speed finger tapping.
Guitar Specs:
Made in Japan by Ibanez's most experienced luthiers
5-piece maple/walnut E-GEN 24-fret neck
Mahogany body with flamed maple top

 

Scalloped frets–21st-24th

 

DiMarzio HLM Herman Li signature pickups

Edge-Zero bridge with the stronger arm action preferred by Herman Li

 

Special upper horn grip and deeper lower cutaway

Low-profile middle pickup for extreme picking
Gold Hardware
The price for the E-Gen starts at around £2100