Devin Townsend is an eclectic Canadian musician who has a huge back catalogue of albums under various names.
In the early 1990s he was taken on by Steve Vai as a singer on his Sex and Religion album and tour. Later in the 1990s he released a brilliant, yet little-known album under the band name Ocean Machine.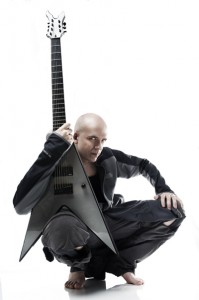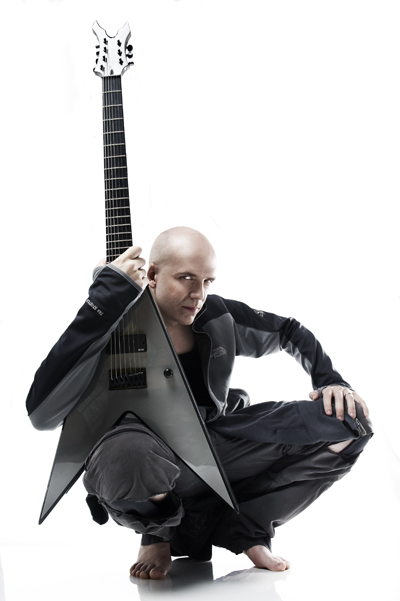 Around this time he also formed the extreme metal band Strapping Young Lad. Having released several albums under the Devin Townsend Band moniker throughout the 1990s and 2000s, Townsend has now started up a new project, known simply as the Devin Townsend Project, and plans to release a quadrilogy of albums under this name.
These will range from New Age to "chaotic" extreme metal. Two albums have already been released, and the last two will be released simultaneously.
Townsend is also an in-demand producer. He produces all of his own work and is now working with other bands. His production style is known for its often heavy use of effects such as reverb and delay, and has been described as a "heavily multi-tracked wall of sound".
His guitar style is eclectic too.
As well as incorporating country and blues influences (Townsend was also a banjo player from a young age) he often uses lots of tapping and sweep picking in his solos.
He plays in open tunings, usually open C or B. His vocal delivery ranges from operatic singing to death metal screams.
All in all, Townsend is a remarkable and very versatile musician, and it is fitting that he has now been awarded a signature model by Peavey.
This guitar comes from Peavey's metal-orientated PXD series, and is based on the newly released Vicious shape, which draws inspiration from the BC Rich Speed V and Jackson King V.
Townsend often uses seven-strings for his records, and his signature Peavey is a seven-string with a 28" baritone scale.
Here is the full spec:
Peavey Devin Townsend PXD
7-string baritone instrument with 28" (711 mm) scale.
Maple neck-through-body design for incredible sustain.
Alder body wings
Locking Sperzel® tuners.
Adjustable bridge with string-through design
EMG® 7-string active pickups
3-way toggle switch.
Ebony fretboard with 24 jumbo frets.
Glow-in-the-dark side fret markers for dark stages.
Gun metal gray finish with black accents.