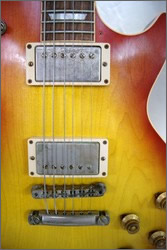 A Halifax, NS businessman is hoping musicians from all over New Brunswick, Nova Scotia and P.E.I. will dig through their closets for old guitars, amplifiers and other gear and bring it all to Moncton for a unique swap meet.
The swap meet is set for Saturday, May 7 at the Moncton Lions Centre on St. George Street from 11 a.m. to 4 p.m.
Stuart Lorriman, a long-time musician who recently retired as a sales rep for Canadian-made Godin guitars, says a similar event in Halifax attracted over 700 people, many of whom brought all kinds of used guitars, new guitars, amplifiers, effects pedals and other stuff that musicians go ga-ga over.
"The Halifax one really turned into a social event with people meeting up with old friends and bandmates," Mr. Lorriman says. "I expect we could get 400 to 500 people in Moncton."
He chose Moncton to stage the first swap meet in New Brunswick because of the central location, making it easy for people to come from Fredericton, Saint John, Miramichi, P.E.I., and other parts of New Brunswick.
The concept of the swap meet is pretty simple. Bring guitars, amplifiers and other stuff you'd like to trade, and of course some cash if you find something you'd like to buy.
Mr. Lorriman says the swap meet is a place where musical instrument dealers can showcase their new products, and where collectors can sell or trade. People with two or three items can bring them in and look for something to trade, but anyone with more than that is asked to rent a table for $30. Admission at the door will be $3. Mr. Lorriman can be reached by e-mail at audiorep@ns.sympatico.ca.
Local music stores have been invited to set up tables, but encouraged to put in some of their used gear or stuff that's on sale – as opposed to taking stuff off the shelf at the store and putting it on a table at the swap meet.
In recent months, local music stores have become more open to taking trades on guitars, amplifiers and other gear as musicians look to trade in their old guitars for new ones.
This also opens the door for newcomers to pick up a used instrument at bargain prices. Beginners looking for a new or used guitar should plan to spend about $150 to $200 for something good. Higher-end guitars can go from $500 to more than $1,000.
In Metro Moncton, the best places to go guitar shopping for new instruments are the Long & McQuade music store on Plaza Boulevard and La Guitare on St. George Street. Both stores also take trades and have a selection of used gear. The Parlour pawn shop in Mountain Road also has a good selection of used guitars, amps, effects pedals and other stuff for sale and trade. Treasures and Trash also offers some used music gear.
But Mr. Lorriman is really hoping that some unique pieces of vintage gear will make it to the swap meet. The term "vintage" is rather loose when it comes to guitars and amps, but it generally applies to anything that can be dated back 25 years or beyond.
In guitar circles, vintage instruments are generally considered to be better made and sound better. Some people like them to be scratched up, others like them restored.
Mr. Lorriman says guitars from the 1950s and early 1960s are the most sought after by collectors, mainly because they were made by hand by true craftsmen. As the popularity of guitars soared from the 1960s through the 1980s and beyond, well-known guitar makers set up factories for mass producing the instruments. They also began producing economy lines.
For example, Fender guitars are probably the best known, especially for their Telecaster and Stratocaster models. Fender still makes guitars in its California factory, but they are also made in Mexico. Guitars from Fender's economy line, Squire, could come from plants in Japan, China or Indonesia. To the untrained eye, a Fender Stratocaster and a Squier Stratocaster are virtually identical, but the price difference could be several hundred dollars.
Fenders have been on the market for more than 50 years, so there are a lot of them out there – new, used, modified, customized and some beaten to death. Collectors go wild searching for models from the 1950s or 1960s, and prices on Internet sites can skyrocket. For example, a nice 1959 Strat on Ebay has an asking price of $15,000, when a brand new one off the shelf sells for about $1,500. A new Squier Strat could be found for as low as about $150.
The folks at Fender, recognizing an opportunity, put out a "Road Worn" line of guitars that are brand new but scratched, sanded and beaten up to look like instruments that have many years of service.
Mr. Lorriman says real vintage instruments from the trusted brand names were made with superior workmanship and parts. The types of wood, the internal construction, the quality of metal and electrical components like pickups, and even the type of finish can all have an affect on the overall sound of the instrument. A few nicks and scratches won't affect the sound and actually give the instrument character. But if the neck is warped and the bridge is pulling away from the body, it could be doomed.
A lot of musicians love collecting instruments. A term you'll hear around town is "guitarded," which basically translates into: "I know I don't really need it and can't afford it, but I'm getting it anyway."
I know hobbyist musicians who have closets full of guitars and every once in a while they'll gather up four or five and trade them in on something else.
Collectors usually like to have a bunch of guitars that have different sounds, so one is good for playing hard rock style while another would be better suited to blues or country.
Serious blues players will usually have at least one guitar with the action (the space between the strings and the fretboard) set very high for playing with a bottleneck slide. Guitarists might also have one set up differently or set to an odd tuning.? And then there are amplifiers, PA systems and effects pedals. That's a whole story in itself.
The love of vintage guitars isn't new, but Mr. Lorriman says it has really picked up with the advent of online shopping and TV shows like American Pickers and Pawn Stars. If you have an old instrument or amplifier, write down the make, model and serial number and then go searching online to find out when it was made and whether it is valuable.
But like anything else that is vintage or collectible, the true value is really what someone else is willing to pay. But it's fun to look.