"I think this guitar sounds fantastic. Some people will be put off by its size, but it has a very big sound."
These are the words of the Cure's Robert Smith, who spoke with us recently about his new signature guitar, which is indeed a big deal in more ways than one. Safe to say, Smith is not exaggerating when describing the UltraCure's sound. Even unplugged, this guitar is girthy and sustaining. You can literally feel the string vibrations radiate outward across its massive mahogany plank like ripples in a pond.
The idea for the Korean-made UltraCure sprang from Smith's desire for a guitar that could replace the hollowbody Gibsons and Gretsches he had been using.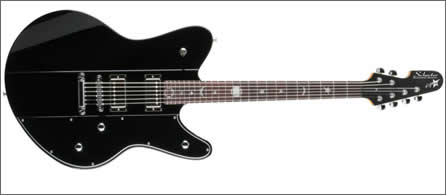 "There was a limited-edition Gibson Chet Atkins that I'd gotten in the '80s, which served as a benchmark for this guitar, because I love the way it sounds and plays," he explains.
Smith was also a fan of Schecter guitars, so it was natural for him to have the Hollywood, California, company take a shot at building his dream ax.
"I've always liked the Schecter Ultra," Smith reports. "In fact, my tech was always getting frustrated because he wanted me to use one of my vintage guitars, but I always preferred to play the Schecter. The neck shape on the UltraCure is the standard Ultra style, which I love because it's not too deep. I wanted a 24-fret neck because it looked right to me. I know about how the neck pickup doesn't line up with the harmonic node when you've got 24 frets, but because I mostly use the bridge pickup or both pickups together, that's not really a concern. The guys at Schecter were worried that the 24-fret neck might not look right in proportion to the body, so I simply enlarged the shape until everything was in proportion. I had a cardboard cutout of the guitar, and I drew the controls, pickups, and strings on it. That's how I worked out the shape I wanted."
The UltraCure's slim, 14″-radius neck plays superbly, and the neck joint flows into the body like molten glass. The frets are well finished, with no high spots or prickly ends, and buzzing is minimal on the low-action setup. The pearl fretboard inlays are cleanly set, and they reflect Smith's desire to create a distinctive appearance.
"I designed the inlays to make the guitar look a bit more cosmic," Smith explains. "The first guitars Schecter made for me had block and dot inlays, which I thought looked too strong. Stars have been a Cure theme for some time now, and the crescent moons add a nice cosmic touch. I like big inlays because I need to be able to glance down quickly when I'm performing and know exactly where I am on the neck. I still wanted the white dots on the edge of neck, however, because it can be hard sometimes to see the dark pearl inlays."
The huge 3-ply pickguard is carefully beveled, and it fits tightly against the top's slightly raised center section. The controls are conveniently placed, too, with the layout of the knobs and pickup selector plotted by Smith.
"If you notice, all the controls are arranged in a linear manner to form triangles," Smith states. "It was something that was very important to me. In fact, had I not been so busy in the studio while working on this guitar, I might have spent even more time trying different placements for the knobs. But I'm happy with how it worked out. It's also important to me to have a master volume, because I like to set the level and not have to touch while I'm singing. I can't be fussing with the controls when I'm performing."
Asked about his choice of pickups for the UltraCure, Smith replied: "I'd tried some different pickups, but, in the end, I found I really liked the sound of the Duncan '59s. And since that's also the year I was born, I thought it appropriate to have them on this guitar."
Part of the credit for the UltraCure's massive, sustaining sound goes to its TonePros bridge and stop tailpiece. "I originally wanted the guitar to have a vibrato," Smith recalls. "Schecter even made me one with a Bigsby. But then I realized that I only used it on two of our songs, so, in the end, it seemed better to go with the solid tailpiece."
Ultra Sounds
Playing the UltraCure is an interesting experience, as it sounds sort of like a semi-hollow thinline ax, but feels like a shred-friendly solid—thanks to its svelte neck and speedy setup. The guitar sounded cool though a '64 Fender Super Reverb and a
mid-'70s 50-watt Marshall, delivering gobs of low-end and midrange content, along with well presented, sparkling highs. The Duncan '59 humbuckers pack plenty of output to easily drive these two non-high-gain amps into thick distortion, and when pumped though distortion pedals at much higher gain settings, the tones were even and articulate.
The bridge pickup is where the action is on the UltraCure, as it provides the slice needed to reveal the inner zing in that huge mass of mahogany. Because the bridge-pickup Volume knob is the one closest to the strings, it can initially be a little confusing as to which pickup you're controlling, but this arrangement makes sense if, like Smith, you tend to romp mostly on the bridge setting. The UltraCure has no Tone control, but the individual Volume knobs are equipped with a push-pull function that taps the pickup coils for a brighter response. This makes it easy to get lots of sonic textures in the dual-pickup mode. And depending on how the levels are set and whether you're tapping one or both pickups, there are myriad shades at your fingertips—from dark jazz vibes to round, sweet R&B colors to prismatic clean tones to a full-bodied grind that really roars when pushing some amp volume. And once you've established the sound you want, you can conveniently bring it up or down via the Master Volume.
Specs
1-5/8″ nut width
25-1/2″-scale rosewood-on-mahogany neck
Neck-through design
Three-piece mahogany body
Seymour Duncan '59 humbuckers
TonePros bridge and stop tailpiece
Grover tuners
Factory strings: Dean Markley .010-.046
9.6 lbs
Price
$999 retail
$549 street