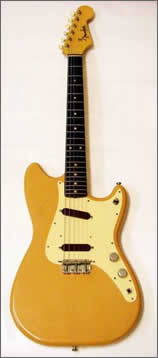 Another Hendrix guitar is up for auction next month, this time the it's the Fender Duo-Sonic he owned and played before he was famous.
Jimi played on this guitar on tour with the Isley Brothers and it is expected to fetch around $180,000.
The blond Duo-Sonic is a 1959 or 1960 model, which the 21-year-old Hendrix paid $160 for before joining the Isley's as a session man on their tour of 1964.
Of course, as a solo artist, Jimi was known primarily as a Strat man, which explains why this Fender went into storage before reappearing in Hendrix manager Chas Chandler's studio.
Chandler sold the guitar in 1982 for £400 to music agent and manager Rod Weinberg.
The Duo-Sonic goes under the hammer at Cameo Auctioneers Records' Music & Memorabilia Auction on November 2.