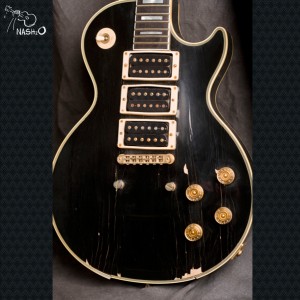 Dozens of guitars, mandolins and other instruments – straight from the hands of artists including Keith Urban, Brad Paisley, Vince Gill, Kenny Chesney and Peter Frampton are headed for the online auction block through nonprofit organization NASH2O (Nash-H-2-0) to support flood relief efforts in Nashville.
Proceeds go to three beneficiaries: MusiCares Nashville Flood Relief Fund for music industry professionals, Nashville Musicians Association Flood Relief Fund for those musicians that were uninsured, and Middle Tennessee fire and rescue departments.
Organized shortly after the devastating May floodwaters receded, NASH2O was created by three longtime Music City mainstays: George Gruhn, widely-recognized as the leading authority on vintage stringed instruments; Joe Glaser, renowned luthier and fine instrument repairman; and steel guitarist/producer Bruce Bouton, a fixture on high-profile recordings and tours for decades (currently touring with Reba McEntire). Their goal was to collect flood-damaged instruments from top artists, which could then be sold as presentation/collector pieces. The group secured underwriting support from Fireman's Fund Insurance Company, a major insurer of many of the affected artists and exclusive insurance sponsor of NASH2O.
NASH2O's official launch is slated for Tuesday, October 12 — with a VIP kickoff reception and press conference at the Hard Rock Café in downtown Nashville beginning at 4 p.m. The reception will feature appearances by some of the artists who have donated instruments, special guests, a silent auction, and some of the instruments which are headed for online auction on display.
The public will have a chance to bid via the online auction, which will open the same day at http://nash2o.org/. The NASH2O auction is unique in several ways, as the instruments offered for sale are historic musical artifacts from the Nashville flood that damanged several instrument storage facilities, as well as musicians' homes and studios. But as Gruhn explains, the instruments themselves are unlike what is usually available to fans and followers:
"It's fairly common to see instruments, signed by artists, for sale in charity efforts or given as contest prizes," he says. "But those are almost always pieces donated by a manufacturer for that purpose. They're handed to the artist, he signs them, and that's really the only connection he has with them. The NASH2O pieces are the artists' personal instruments. Peter Frampton's Les Paul is, well, Peter Frampton's Les Paul. Brad Paisley's Tele-style guitar is Brad's guitar. You hear that guitar on the records. You saw it in his hands in concert. These are very personal, cherished tools of the trade, and buyers can own a piece of that history, that pedigree."
Beside the artist-owned instruments for auction, sweepstakes items of new instruments and/or premiums have been donated by Taylor Guitars, THD Amplifiers, Paul Reed Smith Guitars, Gibson Guitars, Martin Guitars and Yamaha Instruments.
Check for further information and updates at http://www.nash2o.org./