Neptune Bound: The Ultimate Danelectro Guitar Guide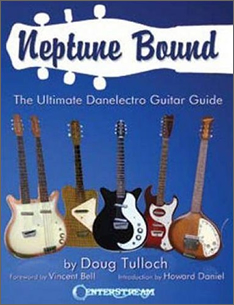 You may have never heard of a Danelectro guitar.
But Jimmy Page and Eric Clapton certainly have.
The unorthodox instruments — known for their unique design and prized for their clear, bell-like tone — belong in the arsenal of every rock guitarist from Aerosmith to ZZ Top.
And with the publication of "Neptune Bound," Doug Tulloch has established himself as the world's foremost expert on the classic instrument, a passion that has put him in the company of some of rock's greatest guitarists.
"Neptune Bound" is a 437-page tome full of all things Danelectro. It is subtitled "The Ultimate Danelectro Guitar Guide."
The Danelectro was the creation of Nathan Daniel and was produced in America from 1954 to 1969. Danelectros are recognized for their inexpensive but durable construction. Today the American versions begin selling at $300 and can go up to as much as $5,000 if they are celebrity-owned. For the last 10 years, they have been made in Korea.
"The Danelectro is a no-frills instrument," Tulloch says. "They're light and comfortable, which makes it a user-friendly guitar.
They were sold out of the Sears catalog which gave young musicians the opportunity to start out with something that didn't mean spending a lot of money. Over the years they began to get more rare and expensive.
"Chances are that if you grew up in the 1950s or '60s you knew someone who owned a Danelectro," Tulloch says. "People reflect fondly on the instruments. They were a decent guitar for the money. They play as well as any other guitar."
Danelectros are constructed of Masonite around a pine frame with a poplar neck. One of the guitar's more notable features is pickups that were originally set in lipstick tube casings. And while most modern guitarists will first reach for Fenders or Gibsons, the performance that can be derived from a Danelectro has made it a studio favorite for many players through the years, including Page and Clapton.
In 1991, Tulloch opened City Guitar, an Acushnet Avenue business that dealt in used and vintage guitars, amplifiers and accessories. He was able to build a collection of Danelectros that eventually grew to 150 guitars. His interest in the instrument also allowed him to provide them for rockers such as Joe Perry and Brad Whitford of Aerosmith, Gregg Allman, Dean DeLeo of Stone Temple Pilots and Warren Haynes of Gov't Mule.
"I started collecting Danelectros when no one else was," Tulloch points out. "I was selling more popular guitars such as Fenders and Gretsches which allowed me to fund my addiction to Danelectros. Since no one was collecting them when I started, I was able to build my collection for cheap."
Tulloch closed City Guitar in 1996, but not before establishing himself as the expert source on Danelectros.
"People play Danelectros all across the planet," he says. "I've been in touch with people from Sweden to Singapore. And now this is the book that solidifies the subject. This is the definitive book on Danelectros."
The book, designed by artist Matt Charros, took three years of persistent dedication. It is being sold in England, Japan, and Australia. It is available in America here:
Neptune Bound: The Ultimate Danelectro Guitar Guide
When Tulloch sells the 200th copy of the book, he's going to raffle off one of his prized Danelectros — a silvertone amp-in-case model valued at $800.
Today Tulloch still buys and sells guitars as well as doing repair work. He occasionally writes articles for magazines such as Vintage Guitar and Japanese Guitar. The majority of the articles are about Danelectros.
"My life is all about guitars," he says. "I've surrounded myself with my passion."
By SEAN McCARTHY, www.southcoasttoday.com