Great new hardbound 193 page book about the collectable Swedish Guitars, Hagström
Superswede: Hagstrom Guitars 50 Years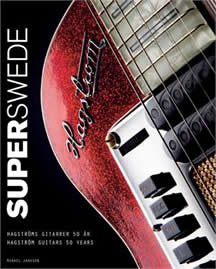 Hagström guitars hold a place in musicians´ hearts. Many of the world´s greatest played Hagström instruments, from ABBA to Zappa. Other international star users are Jimi Hendrix and Elvis Presley.
Musicians of a younger generation have also discovered these Swedish quality instruments, for example The Cardigans and Sahara Hotnights.
This richly illustrated book – more than 400 photos – displays not only the guitars and basses made in the Älvdalen main factory between 1958 and 1981, but also Hagström instruments sold under other brand names, and instruments built in the Falun and Oslo factories, and by Bjärton.
The close to 200,000 Hagström guitars made are a symbol of Swedish musical, cultural, and industrial history and a fine example of Swedish design.
Author Mikael Jansson is a journalist and musician, and in 2006 published a book (in Swedish) about the Hagstrom company history, "Musik for miljoner".