I found this great story by Eric Dahl on the Guitar Center blog, so I thought I'd pass it on;
I'm one of those people that is always in search of the next cool guitar so I frequent all of the Las Vegas pawn shops, music stores, Craig's List and of course Ebay. I'm also an avid reader of several musician magazines including Vintage Guitar Magazine, Premier Guitar and Guitar Player, which help keep me current on vintage and new guitar gear.
This all began back on September 10th when I was contacted by a pawn shop that I had bought several other guitars from in the past, about a Lucille they had for sale and wondered if I would be interested.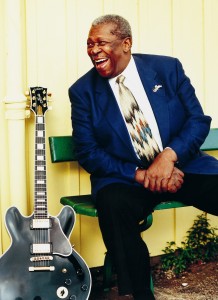 Being a huge fan of BB King of course I was. On the phone they told me it was an 80th Birthday Lucille model which I had never heard of! So I started doing research with anyone and everyone I knew that could help me out. I found out from Gibson, that 80 of them were created for BB King's 80th Birthday in 2006 and that they sold new for almost $10,000.
Each one was issued with a letter from BB King also and only 44 were sold in the US. As you can imagine I was pretty hyped up. When I got to the pawnshop I was disappointed to find that the guitar had been gigged hard, was covered in filth, had pick scratches and even some small dents from being played. The shop would not budge on the price. It did not have certificates and the case wasn't the original. I flipped the guitar over and looked at the headstock expecting to see the standard serial numbers. To my surprise "Prototype 1" was stamped just below where the headstock serial should be. I figured this was a fake or a really cool piece that had once been approved by BB King then given away to a fellow musician, friend of the family or relative.
Of course I bought it and took it home and cleaned on it for a few hours trying to buff off the grime and scratches, oiled the fret board and put on new strings. That is when my research really began. I couldn't find anything about the 80th model in my Gibson or Gruhn reference books, just a few stray articles on the web. I contacted Walter Carter, the author of numerous guitar reference books and part of Gruhn Guitars in Nashville; he had no idea and had never seen a stamp like that on back of a guitar.
Then I contacted my Guitar Center friends here in Las Vegas and in LA, still no idea. Even sent pictures to Wally Marx, writer for Vintage guitar and Premier Guitar, and he had no idea. So I went back to Gibson customer service and played e-mail tag with Bob Burns for two months trying to find out if this was a prototype, if so did BB play and approve it, who built it, and how much it was worth? I was pretty much at my wits end and was ready to give up the quest. One day I was doing a guitar search on the web for a different guitar and found a contact with Blue Book Publications. It ends up he's the owner of the company, Zachary Fjestad, super nice guy and flipped him pictures of my 80th Lucille.
He sent me more information than anybody else did all the way from Minneapolis, Minnesota their corporate headquarters! I kept bugging Gibson every week too and my contact told me that he had a guy there at the custom shop that knew something about my guitar and he was going to call me.
Finally on November 9th I get a call from Pat Foley, he is the Gibson Artist Relations Director out of Nashville. I assumed he was calling me up to give me some juicy details on the guitar and did he ever. First off he asked me if I still had the guitar here in the United States, which kind of seemed odd to me since where else would I keep it? Then I started asking him a series of questions as well.
It ends up the guitar was stolen from BB King, the beginning of summer 2009. The guitar had been presented to BB in 2005 by Gibson for his 80th birthday present in Los Angeles. Also this was Mr. King's main gigging guitar for the last four years and he was so upset when it was stolen that he asked the Gibson Custom shop to make him as close a replica as possible.
Mr. King's people and Gibson were very pleased that I did not try and sell this to a collector in Japan and that I was more than willing to return it to Mr. King the rightful owner. In appreciation BB and his Assistant, Lavern Toney worked with Gibson to have a guitar present for our meeting on November 30th at 3pm yesterday. Mr. King exceeded my expectations with his friendly greeting. He kept thanking me and shaking my hand and was so happy to get his Birthday present back that was stolen from him.
I got the experience of a lifetime to meet Mr. King in person and talk to him for 45 minutes. Plus he signed a Lucille to me, gave me some BB guitar picks to use and signed my BB King Treasures book. He wants of a copy of our picture together to put up at his office. I'm just happy that I was able to return a prized guitar to one of my guitar idols and inspirations so he can continue to give joy to so many other blues fans around the world!