Paul Smith, the well known British clothing designer, has collaborated with Vintage Guitars in order to produce the Paul Smith acoustic guitar.
It's a 3/4-sized acoustic that Paul Smith is refers to in most of his marketing as a 'children's guitar' but could really serve as a travel guitar for the fashionistas who wants to strum as cooly as they dress.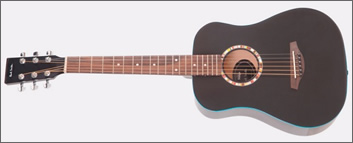 The guitar has a spruce top and mahogany body with a maple neck and rosewood fingerboard. Specifications list a mahogany bridge but the image makes it look rosewood (which would be more usual) – I suppose it may be dyed.
Finish is black gloss only and it has a blue binding. The soundhole rosette features the Paul Smith 'signature stripes' and the headstock bears the Paul Smith signature.
It comes with a gig back sporting a small Paul Smith tag and another 'signature stripe' on another small tag.
It is for sale at Paul Smith website (or in his stores) for £180 or $330.