Taylor Swift now has her own signature model guitar to be built and distributed by Taylor Guitars, the renowned acoustic and electric guitar company founded in 1974.
She joins Leo Kottke, Doyle Dykes and Dan Crary as artists who have a signature model built by the company. The Taylor Swift Baby Taylor guitar is based on the best-selling Baby Taylor guitar and is ideal for both promising players and accomplished pickers.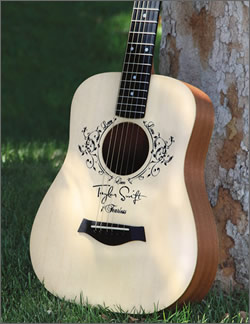 At three-quarters the size of a standard dreadnought, with a slim 1 11/16-inch neck and a comfortably compact shape, the guitar is just right for both the littlest player's hands and anyone who likes to pick up and play on the go.
The top of the special-edition instrument is decorated with a screen-printed rosette design and the word "love" three times within a vine motif.
It also includes the title of her latest album, Fearless, and her signature near the bridge.
"For a beginner, finding the right guitar can be intimidating, but this guitar, it's the perfect size," she said. "Even if you've been playing for years, it's a great size to travel with."
The guitar's list price is $398, but it is expected to be sold for around $299 when it becomes available later this month.