California Auctioneers will be auctioning one of the rarest rock guitars in the world; The 1958 Gibson Les Paul Standard.
An amazing collection of over 70 Autographed guitars of the who's who in rock n roll, contemporary art, and a rare collection of Marilyn Monroe and Michael Jackson Memorabilia.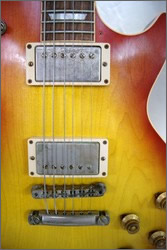 On Sunday Oct 11th, 10 am California Auctioneers will be selling one of the rarest rock guitars in the world; The 1958 Gibson Les Paul Standard.
The guitar is a one owner guitar, and is completely original. The collector's piece was owned by John Ford of Jersey City, NJ, who was proud to call Les Paul his friend. Ford's private collection of guitars is one of the world's best, and the estate has decided to offer the Standard which Les Paul played on many occasions at Ford's estate.
Also a major collection of autographed guitars by the who's who in rock n' roll, including The Who, Led Zeppelin, Rolling Stones, the Eagles, a Nirvana stage played guitar from Vince Neil's collection, Ozzy, Santana, Clapton, Dylan, Slash, Cream, and Johnny Cash will be sold on the 11th.
California Auctioneers is located just below Johnny Cash's old estate, and he was known to frequent the bar where California Auctioneers now lives.
Modern Art by Lichtenstein, Warhol and Rauschenberg and Vintage collections of Marilyn Monroe and Michael Jackson memorabilia fill the walls along with the rare and vintage guitars. There are oddities like Marilyn Monroe's enameled pill box, Michael Jackson's pill bottle and memorial programs.
"This is the best collection of Americana history we've seen in our 45 years," says Jewels Eubanks, auctioneer. The first of its kind, California Auctioneers' sale promises to be full of rarities, excitement and fun and offers history to the highest bidder live, and online.
Located on 8597 North Ventura Ave, Preview is Saturday Oct 10th Noon – 5PM with hors d'oeuvres, Auction starts at 10AM on Sun Oct 11th. To view catalog and photos go to californiauctioneers.com. 805-649-2686.