When I first started this site, one of the reasons was to get back into restoring, customising and fiddling with guitars.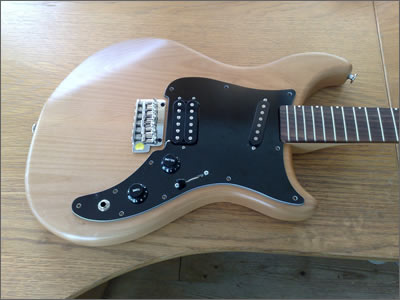 I have played around with guitars all my playing life (30 years this month!) as most of us players do. It is always useful to know how to fix your own gear, and sooner or later a pickup will need changing, or a machine head will break and all of a sudden you find yourself up to your eyes in bits of guitars.
Last year I was browsing Ebay and I found a Westone Thunder for sale in appalling condition. It really was the worst I had seen, with virtually every piece of it broken in some way. I bought it and restored it, and the story is on this blog here.
As part of  the process during the restoration, I used my Twitter account to alert readers to new updates, and to publicise this blog. I was contacted during the build and asked if I would be interested in restoring another Westone.
It's a Westone Cutlass, which was built in the UK, not Japan in the late 90's and is actually a really nice guitar. I have been researching them and I've put togther a short history of the Westone Cutlass here.
This one was in pieces, but complete when I got it with a few scratches and marks in the clear lacquer, and a small break in the scratchplate, near the bridge. Originally it was to be painted in the same colour blue as my Thunder, but after discussion we decided it would look better natural, in keeping with its original look.
Here are a few shots of the guitar as recieved, next installment will deal with the body refurbishment.