Barney Kessel was a very respected jazz guitarist in the 1950s and 60s, and gained his own Gibson signature model in 1961.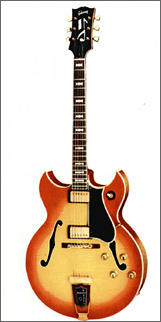 The guitar was unusual in shape, with a 25 1/2″ scale length similar to an ES-335, but with much sharper double florentine cutaways, resembling an SG.
However, the body was much wider than an SG, and looked unbalanced. 
The guitar was very normal apart from this, with four main controls, a wide body as opposed to the thinline design of the ES models, two humbuckers and a Bigsby vibrato.
The model described thus far is the original Barney Kessel Regular. There was another model, the Barney Kessel maple-necked Custom, which didn't sell as well, with a tune-o-matic bridge instead of the Bigsby. Both were available from 1961 until 1973
The Custom was a deluxe instrument; ornate inlays and gold plating throughout – it launched at a significantly higher price than the Regular, $560 and $395 respetively (1/9/61 Gibson price list)

Barney Kessels were discontinued around 1974 and have not been made since. They are rare now, and would probably command a price upwards of £5000.