The guitar arrived safely, although frankly if it had been kicked to my house from 200 miles away the damage wouldn't have been much worse! I unpacked it and before any stripping down, I took a few photos and got a basic overview of what needs doing. It's a pretty extensive list…the issues are as follows;
Pickup selector switch broken 
Mini Toggle switch broken
Nut missing
Both pickup rings broken, and mounting screws all chewed up and rusty
Missing machine head ferrule
Bridge saddles rusted, all screws in nasty conditon
Jack socket missing
Tremelo cover missing
Tremelo arm missing
Some frets in poor condition
2 neck screws missing, others damaged
wiring looks very shoddy..no idea if the pickups work
Body has gouges and scrapes, paintwork in very bad condition
So I have my work cut out for me! On the plus side, the body feels weighty and substantial and the neck looks good. I reckon all the rest is fixable with these two good fundamentals.
In a flurry of enthusiasm I stripped the whole thing apart, unsoldered the remaining wiring, removing the pickups and bagging everything for later investigation.
I had two pieces of luck straight away…my parts box gave up a matching machine head ferrule and I had a spare Tremelo arm, bought for my Squier Strat but the wrong thread..it fits the Westone perfectly!
The body will need sanding, filling and re-spraying, and I won't be returning it to black…I feel like a new colour and the current condition  is so poor a refinish won't harm the guitar's value.
I'm thinking maybe a darkish metallic blue/grey colour I have seen…A Volvo car colour.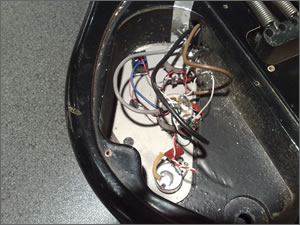 IÂ have also toyed with the idea of metal pickup covers, but it seems pointless buying parts until I know if they work or not. I may need two new humbuckers.
Next post I'll begin the rebuild. Thanks for reading!