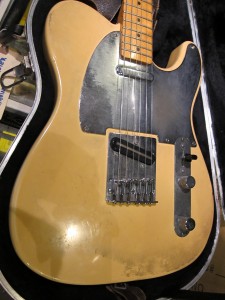 My friend Nicolai over at Vintage and Rare has alerted me to the sale of one of Jeff Buckley's most used guitars through Chelsea Guitars, one of the dealers who advertise through his website.
The 1983 Telecaster was used extensively for live work by Jeff and was given to a close female friend by his family after Jeff's untimely death in 1997.
I am not sure on all the details of the guitar, (it obviously has a replacement pickup) but Chelsea or Vintage and Rare will be able to supply all information needed. The guitar comes with all the provenance needed to prove its importance and legitimacy.
Here's the link to the full details; Jeff Buckley's 1983 Telecaster for sale