Brad Paisley is one of hundreds of Nashville's top stars, working musicians and tour support company owners who lost what will likely be millions of dollars in gear due the historic floods in Nashville.
Paisley is one of an estimated 1,000 musicians and business owners who house gear at Soundcheck Nashville, a storage rental hub in an industrial park down by the Cumberland River. Owner Ben Jumper said the 160,000 square feet of space he rents out is all flooded and the losses will be in the tens of millions. The storage facility is full of classroom-sized "lockers" used to store gear.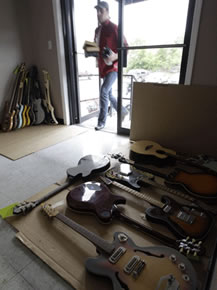 Keith Urban lost his gear. Friends say Vince Gill may have lost most of his entire guitar collection, including irreplaceable vintage pieces with historic value. A tractor-trailer full of LeAnn Rimes' road gear is also probably under 3 1/2 to 8 feet of water, her guitarist Ryan Wariner said.
Wariner is trying to be optimistic, but there's not a lot of reason for hope.
"Everything that I use but two guitars is in there — pedals, amps, speakers, mics, front house consoles, everything was in there," said Wariner, son of Grammy-winning country artist Steve Wariner.
Another major Soundcheck client was the recently opened Musicians Hall of Fame, which stored historic instruments donated by dozens of top players, not only within the country music world, but from rock, R&B, soul and jazz players.
Joe Chambers, founder and chief executive of the Musicians Hall of Fame, which just opened a year ago, is distraught over the losses, but acknowledges that it could have been worse. "So many people lost the pillow they lay their head on at night, much less a guitar. But the fact is, a lot of historical instruments were stored at Soundcheck."
Among those donated to the hall of fame were a Fender Stratocaster that belonged to Jimi Hendrix, a Gibson Les Paul played by the Who's Peter Townshend, and one of Johnny Cash's guitars.
"We had two of Lightning Chance's basses — he's somebody a lot of people don't know about," Chambers said, "He played at the Grand Ole Opry alongside Chet Atkins, Patsy Cline, Hank [Williams] Sr., the Everly Brothers. Both those basses just fell apart. One of them was used on Hank Sr.'s very last recording session — that's the bass that's heard on 'Your Cheatin' Heart.'"