Following on from the last post about the tragic loss of vintage guitars in the Nashville floods, Chris Spann from moneysupermarket.com has written this guest post to alert us all to the importance of making sure we keep the insurance up to date on all our treasured and valuable possessions, not just our guitars!
Have you ever spent a little bit too much on a guitar? Every collector probably has at one time or another; it kind of goes with the territory – along with casually changing the subject every time someone asks you how much you've spent on your new axe.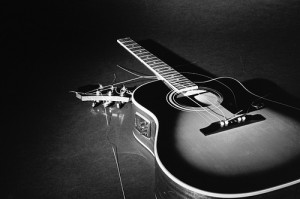 But imagine what would happen if that guitar was damaged in some way, or stolen: As well as the sentimental value, you could potentially be left out of pocket to the tune of hundreds, or even thousands of pounds.
Be honest, when you add another guitar to the collection, do you update your home insurance? If you only buy two guitars in a year that could see your collection's value increase by £1000 or more, and before you know it you've got an awful lot of money's worth of wood and wire hanging around your house.
It's also worth finding out what your single item limit is on your home insurance; the last thing you need is to lose a prized instrument only to find that your provider won't cover the full cost in repayment.
There are a number of things you can do to keep the cost down when you're buying insurance as well; here are just a few things to consider:
• Fit five lever mortice locks and consider changing the locks – if your house has previous owners, you don't know who might have a key.
• Fit smoke alarms and give up smoking – both of these things can decrease your premiums by a noticeable amount.
• Join a neighbourhood watch scheme – this can reduce your premiums by up to 5%
• Install security lighting and a NACOSS approved alarm – these will also help to slash the cost of your insurance.
Obviously, things like this aren't only good for keeping your premiums down; they're also great for making sure your prized collection of gear doesn't end up in the wrong hands as well. Most thieves are opportunists, and as such a security light or clearly visible alarm sounder box on an exterior wall can make them think twice about trying your home, which is often enough to keep your possessions safe.
Too many people do not adequately cover their homes, which can make an already difficult time (dealing with the aftermath of a fire, or burglary, for example) all the harder when their provider refuses to pay up for possessions they have lost. Don't let yourself fall into this trap, and check your cover.