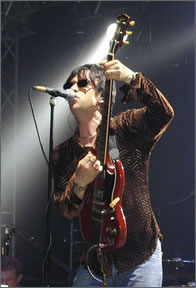 Former Smiths guitarist Johnny Marr is "ecstatic" after one of his favourite guitars was returned to him – 10 years after it was stolen.
Marr's treasured vintage 1964 Gibson SG vanished after a show with his band Johnny Marr and the Healers in London in 2000.
The musician was so upset by the theft, he offered a reward for information leading to the return of the guitar, which has an estimated value of £30,000.
Now he has finally been reunited with the instrument – after a guilt-ridden fan confessed to the theft.
Stephen White admitted stealing the guitar on the "spur of the moment" after he was invited backstage following the gig. He took it home by taxi and has kept it in his living room ever since – but was arrested earlier this year after cops received a tip-off.
At Highbury Corner Magistrates Court in north London last week, White pleaded guilty to theft, admitting he feels "disgusted" with himself.
Police Constable Christopher Swain said Marr is "ecstatic", adding: "He bears no malice towards the defendant… The guitar did have a high sentimental value to him."
A spokesman for Marr says, "He is obviously very happy to have his guitar returned."
White was sentenced to 200 hours community service.