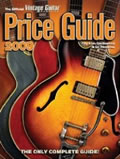 The Official Vintage Guitar Magazine Price Guide 2009 (Official Vintage Guitar Magazine Price Guide)
This year's price guide; The bible of the vintage guitar collecting industry.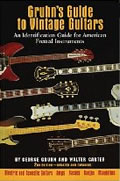 Gruhn's Guide to Vintage Guitars: An Identification Guide for American Fretted Instruments
For collectors, dealers and players, this updated guide provides specifications, serial numbers, and more for determining the originality of vintage American acoustic and electric fretted instruments. Detailing thousands of models of major manufacturers, the book now includes expanded coverage of Martin, Guild, Mosrite, Dobro, Gibson banjos, Fender amps and Gibson amps, plus updates on the latest models from Fender, Gibson, Rickenbacker and others since 1990.
 
Warmans Vintage Guitar Field Guide (Warman's Field Guides)
Another guitar identification and price guide. A nice companion book to the Vintage Guitar Magazine price guide.
 
 
 
 
The guitar industry's most comprehensive publication on electric guitar information and pricing has been dramatically improved! The new 11th Edition Blue Book of Electric Guitars is now over 1,150 pages, identifies over 1,200 guitar manufacturers, trademarks, and luthiers, and features hundreds of new images. Written by Zachary R. Fjestad and edited by S.P. Fjestad, the fully revised 11th Edition Blue Book of Electric Guitars keeps the reader up-to-date on new and vintage pricing, technical information on electric instruments, and serialization on most major trademarks. This edition lists the current and discontinued electric companies, contains a thoroughly revised Trademark Index with contact information, and features hundreds of black and white photos depicting popular makes and models.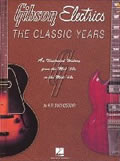 Gibson Electrics: The Classic Years
Since the inception of the first "electrical" guitars in the 1920s, no other manufacturer has produced a greater variety of professional quality models than Gibson. This book presents a documented account of the instruments released during a highly creative period from the 1930s up to the mid-60s, which saw the coming of age of the electric guitar. It describes all the models that have made history and contributed to establishing the reputation of Gibson. This edition features over 500 illustrations, including 100 in color, and previously unpublished material.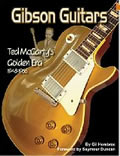 Ted McCarty's Golden Era 1948-1966
Gibson Guitars: Ted McCarty's Golden Era is a long overdue book that covers the world's greatest period of guitar manufacturing. As CEO of Gibson Guitars from 1948 to 1966, Ted McCarty presided over the production of nearly one million instruments and amplifiers. 1950s Gibson Les Paul Standards, Flying Vs, Explorers, and ES-335s are considered to be some of the most valuable fretted instruments in the world. This book is Ted McCarty's first and only complete biography, and a book that gives us a glimpse into a golden era of his factory and his loyal employees who made some of the world's most desirable guitars. It features over 100 photographs, some from Ted's personal archives and never before published. "Ted McCarty was the architect of a Golden period in Gibson's history. During his 18-year tenure, he helped to reestablish the company's historic leadership in the industry through a number of musical innovations that still resonate today." Gibson Chairman and CEO Henry E. Juszkiewicz