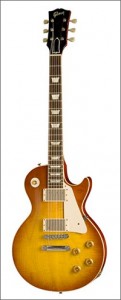 Interesting article here by Jol Dantzig:
An interesting yet disturbing trend of late in the vintage-guitar market is perfectly correct instruments being parted out to meet the demand for rare hardware.
Most of us don't spend a lot of time thinking about the kind of legacy we'll leave behind. I'm not talking about big ideas like curing cancer or saving the planet from harm. What I am talking about are much more diminutive contributions, or actually, lack of action.
A few years ago, I awoke one morning to the sound of chainsaws drifting across my property. I live in a somewhat rural area surrounded by rough, hilly terrain and forest, and have a 600-foot driveway that winds past a section of a neighbor's land. Following the sounds of trees being felled, I arrived at the point where my plot met his. Seeing me, my neighbor looked up, killed his smoking Stihl saw, and walked over to chat. He explained that his livestock hobby needed more grazing land, so he'd decided to level an acre of tall trees and shrubs.
I wanted to continue to enjoy the privacy that the foliage afforded when entering my driveway, so of course I was being selfish as I urged him to reconsider. But it also struck me as irresponsible to just trash an acre of old-growth trees. I'm an advocate of responsible wood harvesting and an avid fan of reclamation, so I reminded him that his deed would remain long after he moved on. Upon consideration, my neighbor compromised and merely thinned out some of his land. This column, however, isn't directly about forests being decimated for musical instrument use. It's about stewardship of what already exists.
Read the full article here