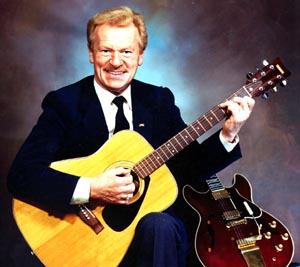 Sad news as Legendary UK guitarist Bert Weedon, whose books helped Eric Clapton and Paul McCartney learn to play the instrument, has died at his home in Beaconsfield.
The 91-year-old musician, of Penn Road, created the popular tutorial manuals Play In A Day, which have sold in their millions.
Friend John Adrian told the Press Association: "He had been poorly for a while but, even so, this was sudden. He was one of my dearest friends."
The list of rock stars who have declared that the guide written by Weedon – who died yesterday – gave them the first grasp of their instrument is a testament to its practical genius. It is one of the sacred tomes of the birth of British rock.
The teenage John Lennon, Paul McCartney and George Harrison all started off with Play In A Day, so Weedon could claim to be a key figure in the genesis of the Beatles. Keith Richards, Pete Townshend, Steve Hillage and Brian May were all acolytes. "I wouldn't have felt the urge to press on without the tips and encouragement Bert's book gives you," Eric Clapton has admitted. "I've never met a player of any consequence that doesn't say the same thing."
It is a statement, however, that rather betrays his age. To later generations who could watch guitar heroes on video and freeze-frame chord changes, Weedon's once revolutionary approach to the instrument is already ancient history.
Yet Weedon is a legend to that first rock and roll generation because he provided something vital to youngsters caught up in a storm of new music: immediacy. The title of his book expresses the urgency that kids felt at being confronted with the intense, primal energy of the new wave of guitar music from across the Atlantic, blowing away the horn-driven virtuosity of jazz and swing, stamping all over the solemn orchestral propriety of 1950s pop.
Faced with an electric explosion at the heart of youth culture, what teen gallant could contemplate studying for years to master an instrument? These kids wanted to form bands, play gigs, pick up girls, make a noise. Bert promised to teach you how to Play In A Day, and that's about all the time they felt they had.
On a personal note I met Bert in the early 1980's whilst working as a temporary delivery driver.
He was not only very friendly to a young guitarist just starting out (me) but he also let me play his guitar, and even gave me a picture disc vinyl record as a souvenir.
He was a true gent..RIP Bert.