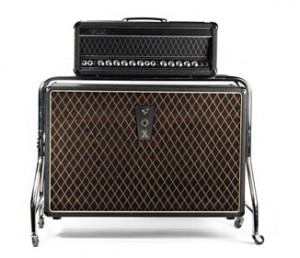 A rare amp once belonging to the late George Harrison — and used for several Beatles recording sessions — will be sold at auction on December 15 at Bonhams in London, England.
The amp, a Vox UL730, was used during recording sessions for Revolver and Sgt. Pepper's Lonely Heart's Club Band. Its connection to the Beatles and Harrison — who died 10 years ago today — has been discovered only recently.
Peter Hook of Joy Division and New Order borrowed the amp from the current vendor in February 2011, as his guitarist needed a vintage amp for a recording session at Blueprint Studios in Salford. It developed a fault at the end of the session and was taken to a specialist engineer to be fixed.
When the amp chassis was removed from its case, the engineer noticed "George Harrison" scratched onto the chassis. After further inspection, he found a label on the inside of the speaker cabinet. Subsequent research led to a photograph of Harrison and The Beatles in the studio with a UL730, with visible chalk markings similar to those seen in the cabinet that will appear at auction.
A member of The Merseybeats who used to write the "Beatles Gear" pages for the monthly Beatles Book magazine, and who attended many Abbey Road Beatles' sessions as a guest, has also identified this as Harrison's UL730.
The guide price at the Bonham's auction is £50-70,000 and will be auctioned on 15th December in London.