The Jackson Roswell Rhoads was a very rare, limited edition guitar made in 1997. It was a limited run of 123 guitars, and was a twist on the classic Jackson Randy Rhoads shape, with a UFO theme running through it.

The body, instead of being made from wood, was made of 6061-T6 aluminium, an aircraft-grade metal which was hand-carved and polished in the Jackson Custom Shop. The guitar featured a single humbucker and a fixed bridge.
It also had a set maple neck with a satin grey finish, and the tuners were unusual LSR gearless types.
The Roswell's body shape was based on the popular Randy Rhoads shape drawn up by the late guitarist in 1980, but the famously angular, pointy shape of the regular RR model was ditched in favour of a much more curvy design, which kept the basic shape but warped the body into an asymmetrical "U" shape as opposed to the regular model's offset V shape.
The inlays were crop circle designs, befitting the alien/jet age theme of the guitar.
The name was taken from the location of a supposed alien space craft crash in the 1947, Roswell, New Mexico.
The original Roswell Rhoads was only built for a short time, in incredibly limited numbers, but has gained a cult following.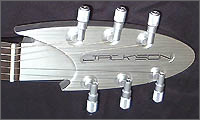 The shape is still available, although only through Jackson's custom shop, and if you want one you'll have to settle for wood instead of aluminium.
The Roswell was priced at a truly huge £3,999 when it was launched 13 years ago, and original, aluminium-bodied examples fetch even more than that today; Gbase currently have one for sale at $5000.
There is, however, a more mainstream guitar which retains the same kind of shape as the Roswell and comes at a much less extravagant cost, in the form of Gary Kramer Guitars' Kramertorium model.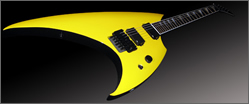 This is a newer model featuring a Floyd Rose tremolo and EMG pickups, for a price of around £500.
If you can't find a Roswell Rhoads or don't have the money, this new guitar could be a very realistic alternative.