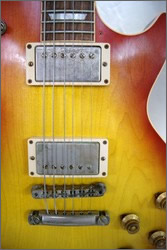 Gibson Guitars, long lauded by environmental groups as a pioneer in the use of sustainable wood products, is the first U.S. company to face prosecution under a new federal law banning trade in illegal wood.
"This is the first enforcement action that we are aware of, and we are extremely encouraged that the government is taking this new tool so seriously," said Alexander von Bismarck, executive director of Environmental Investigation Agency, a nonprofit group that investigates international environmental crime.
That "new tool" is an amendment to a century-old law called the Lacey Act, which combats trafficking in illegal wildlife, fish and plants.
Congress expanded Lacey in May 2008 to include timber and wood products, making the United States the first in the world to regulate trade in plants and plant products. Declaration requirements went into effect in May of this year.
According to the EIA, which fought for more than a decade to get the amendment passed, Gibson is the first in the country and, by default, the world, to be investigated under the new provisions.
Penalties for violations of the Lacey Act range from a simple forfeiture of goods to fines of up to $500,000 and prison time if the company or individual is found to have knowingly engaged in the trade of illegally sourced wood.
Agents with the U.S. Fish & Wildlife Service executed a search warrant at Gibson's Nashville guitar plant on Tuesday. According to unconfirmed media reports, agents seized various items, including an endangered type of rosewood from Madagascar.
Andrew Ames, spokesman for the U.S. Department of Justice, confirmed the raid but declined further comment.
Gibson posted a statement on its Web site stating that it is "fully cooperating" with Fish & Wildlife officials.
Late Wednesday, Gibson updated the statement to include a statement from Allen Hershkowitz, senior scientist with the National Resource Defense Council.
"NRDC knows firsthand that the leadership at Gibson is committed to and informed about environmental issues, and we look forward to continuing our collaborations with this good and upstanding organization for many years to come," Hershkowitz said.
But an NRDC spokeswoman said the statement is from the past and is not in response to Tuesday's raid.
Nashville Biz Journals