On Saturday, October 30 at 4pm, Speal's Tavern in New Alexandria, PA will unveil a permanent museum display of unusual, handmade cigar box guitars.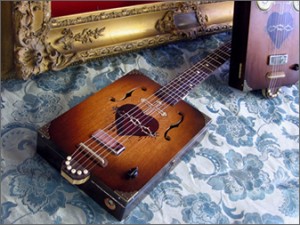 The Cigar Box Guitar Museum was compiled and documented by Shane Speal, a York PA musician billed as "The King of the Cigar Box Guitar" and central figure in the upcoming PBS documentary, Songs Inside the Box. The collection of over 35 cigar box guitars displayed at Speal's Tavern were built by craftsmen all over the country and range from simple, one-string primitive instruments to complex, electrified guitars with frets, double-necks and whammy bars.
Cigar box guitars are the first instruments played by many blues and rock legends such as Lightnin' Hopkins, Carl Perkins and even Jimi Hendrix. The legend is told when poor folk wanted to play guitar but couldn't afford one, they would craft one from an empty wooden cigar box, a discarded stick and baling wire for strings. This poverty instrument is witnessing resurgence in modern times with the success of old time music such as O Brother Where Art Thou and the do-it-yourself spirit brought on by the Recession.
Speal's Tavern has recently gone under new management by Dan Speal of Saltsburg, PA, a retired schoolteacher and a third generation Speal to run the pub. Speal's Tavern opened its doors at the close of Prohibition in 1933 and has been in business ever since. With new organization comes a new addition of a live blues stage to Speal's Tavern's charm, along with a total transformation of the décor, which features the Cigar Box Guitar Museum display.
Shane Speal built his first cigar box guitar in 1993 and has been performing with them ever since. He has brought the instrument into a new renaissance with his website, www.CigarBoxNation.com, which boasts 4000 members worldwide.