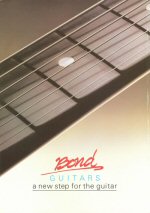 The Bond Electraglide was a very unusual, little-known guitar made in Scotland by Andrew Bond in 1984-5.
The guitar was highly odd, featuring a carbon-fibre body, very complex digital readouts instead of controls, and a neck which featured no frets, instead a "stepped" fingerboard, where the frets were replaced with saw-tooth shaped steps. 
The player selected pickups via five pushbuttons; volume, treble and bass were incremented numerically via digital rocker switches, confirmed by a three-colour LEDÂ readout.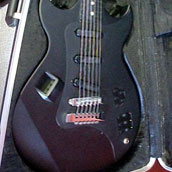 The guitar was launched at the 1984 NAMM show in America. Apart from the various gimmicks featured on the guitar, including the required use of an external power supply, it played normally and sounded normal, with three single-coil pickups and a normal body shape.
The Electraglide was a big shock to the traditional guitar buying public, and was very unsuccessful, (even though I have personally nearly bought one a couple of times).
It sold no more than 1000 units, and was all but forgotten by 1986. There were some notable users however;
British guitarist Mick Jones is known to have used a Bond Electraglide with his band Big Audio Dynamite in the mid 1980s. The Edge used his extensively on The Joshua Tree, including the solo on "One Tree Hill", as well as on "Exit," and "Mothers of the Disappeared".
Will Sargeant from Echo and The Bunnymen was also an Electraglide user.